Back to Workshops
Fundamental Physics with LISA
"Cosmological Frontiers in Fundamental Physics 2022 Workshop"
Solvay - APC - Perimeter Institute
26 - 28 April 2022
Brussels- ULB - Campus Plaine
This workshop is part of the `Cosmological Frontiers in Fundamental Physics' series of annual workshops which rotate between the Perimeter Institute in Waterloo, Canada, the Laboratoire APC in Paris, and the International Solvay Institutes in Brussels. This 2022 edition in Brussels is a topical edition centered around the prospects for fundamental physics of observations of long-frequency gravitational waves. It is organized under the umbrella of the Fundamental Physics working group of LISA but the workshop is open to all interested scholars.
Invited Speakers
**CLICK ON THE SPEAKER'S NAME TO VIEW THE PRESENTATION
REGISTRATION IS NOW CLOSED
Click HERE to view the program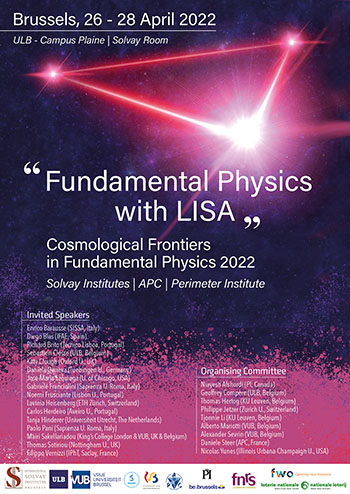 Organising Committee
Niayesh Afshordi (PI, Canada)
Geoffrey Compère (ULB, Belgium)
Thomas Hertog (KU Leuven, Belgium)
Philippe Jetzer (Zurich U., Switzerland)
Tjonnie Li (KU Leuven, Belgium)
Alberto Mariotti (VUB, Belgium)
Alexander Sevrin (VUB, Belgium)
Daniele Steer (APC, France)
Nicolas Yunes (Illinois Urbana-Champaign U., USA)
Practical information for attendees
Registration
Attendance is free of charge but registration is required (limited space).
To register, please click on 'Click HERE to register' at the top right of the webpage.
April 18, 2022 is the deadline for registration.
After registering you should receive an automatic response confirming that your registration has been submitted.
This message is then followed by an email confirming your participation.
Name badges will be distributed on site on Tuesday 26 April 2022 from 09:00 a.m.
Location
The workshop will be held at ULB (Université Libre de Bruxelles) - Campus Plaine - Bld de la Plaine
1050 Brussels (Building N.O. - 5th Floor - Solvay Room). Click HERE for the map of the Campus.
Banquet
A banquet will be held on Wednesday 27 April at 7:30 p.m.
For those who wish to attend, there will be a 50 Euro banquet fee to be paid cash on the first day of the workshop.
An email with the banquet registration details will be sent to all participants in March.

Getting here
Metro line 5 (direction "Hermann Debroux") - Station "Delta". Delta is the metro station on the campus.
Click HERE for the map of the metro.
For more information about public transport in Brussels go to the STIB's website.
If you come by car, please click HERE for directions.
Travel and accommodation
Attendees will have to arrange and pay for their own travel, accommodation, and subsistence costs.
Please see below links that might help you find accommodation in Brussels.
Brussels City Center:
Hôtel Atlas - Sleep Well - Bed & Brussels - Booking.com - Hotel Saint-Nicolas
Hotel Queen Anne - Hotel Bloom - Max Hotel - Metropole Hotel - Plaza Hotel
Hotels close to the venue:
U-Residence: 1.2 km (12 minutes walk - tram number 25: 8 minutes)
Hotel Brussels: 3.6 km (25 minutes walk - tram number 8: 20 minutes)
Hotel Barsey by Warwick: 3,8 km (28 minutes walk - tram number 8: 21 minutes)
Hotel Ibis Styles Hotel Brussels Louise: 3.6 km (25 minutes walk - tram number 8: 20 minutes)
Hotel Capital: 3.3 km (19 minutes walk - tram number 8: 16 minutes)
***For any enquiries, please contact Isabelle Van Geet (isabelle.vangeet@solvayinstitutes.be)