Back to Workshops
SOLVAY WORKSHOP "Beyond the Standard model
with Neutrinos and Nuclear Physics"
Brussels, November 29th - December 1st, 2017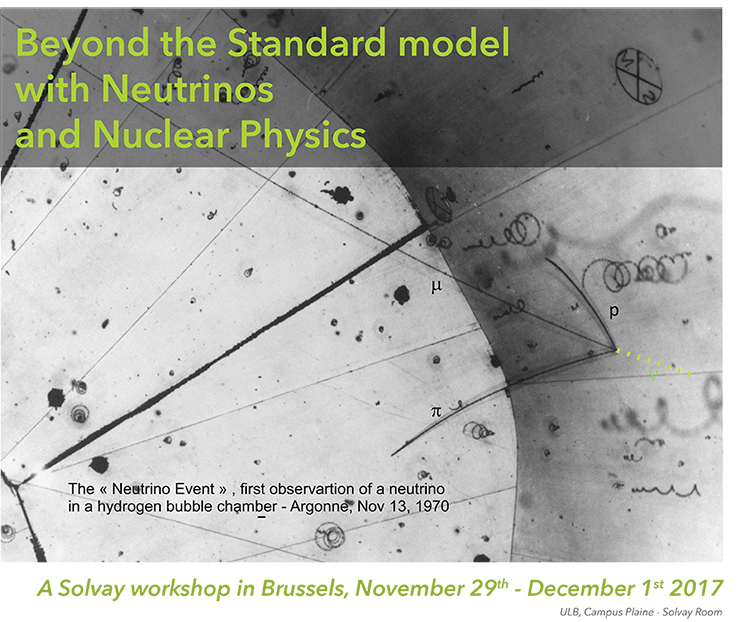 PLEASE CLICK HERE TO VIEW THE POSTER

PLEASE CLICK HERE TO VIEW THE PROGRAM
Topics:
The nature of the neutrino
Mass, Majorana or Dirac character
Magnetic moments
Neutrinoless double beta decay: progress in theory, g_A quenching, and experiment
Neutrino mass hierarchy: current data and planned experiments
Neutrinos from reactors
Planned and on-going experiments for fast oscillations (Solid, Stereo, ..)
Room for a sterile neutrino?
Theoretical predictions and experimental measurements (Daya Bay, Double Chooz)
CKM unitarity and CP
Electric dipole moments
Precison in CKM measurements
Other nuclear tests of the Standard Model
Speakers
*Talks are available below, please click on the speaker's name.
Organizers
Jean-Marie Frère (ULB, Brussels, Belgium)
Nathal Severijns (KU Leuven, Belgium)
Conference secretaries
Sarah Bouzerda (ULB, Brussels, Belgium)
Isabelle Van Geet (Solvay Institutes, Belgium)

Practical information for attendees
Fee and registration
Attendance is free of charge but registration is required (limited space).
November 24, 2017 is the deadline for registration.
Name badges and WIFI codes will be distributed on site on Wednesday 29 November from 8:45 a.m.
Location
The workshop will be held at ULB (Université Libre de Bruxelles) - Campus Plaine - Bld de la Plaine - 1050 Brussels
(Building N.O. - 5th Floor - Solvay Room). Click HERE for the map of the Campus.
Banquet
A banquet will be held on Thursday 30 November at 7:30 p.m.
For those who wish to attend, there will be a 50 Euro banquet fee to be paid cash on the first day of the workshop.
Please send an email to Isabelle Van Geet (isabelle.vangeet@solvayinstitutes.be) if you wish to attend.
Getting here
Metro line 5 (direction "Hermann Debroux") - Station "Delta". Delta is the metro station on the campus.
Click HERE for the map of the metro.
For more information about public transport in Brussels go to the STIB's website.
If you come by car, please click HERE for directions.
Travel and accommodation
Attendees will have to arrange and pay for their own travel, accommodation, and subsistence costs.
Please see below links that might help you find accommodation in Brussels:
Hôtel Astrid - Hôtel Atlas - Sleep Well - Bed & Brussels - Visit Brussels - Booking.com
***For any enquiries, please contact Isabelle Van Geet (isabelle.vangeet@solvayinstitutes.be)